Dynamiq Shipyard in Monaco has signed a contract to build the first hull of the GTT 135, a 41-metre Gran Turismo Transatlantic class superyacht. This class combines transatlantic range and good speed characteristics.
The GTT 135 will be built in aluminum, aluminum alloy Sealium and carbon fiber. Her Fast Displacement hull form has been designed by leading Dutch naval architects, Van Oossanen, who paid great attention to calculating optimum weight distribution within the hull and ensuring a low center of gravity. The result is a highly efficient vessel with a top speed of over 20 knots and a range of more than 3,000 miles at an economical 12 knots.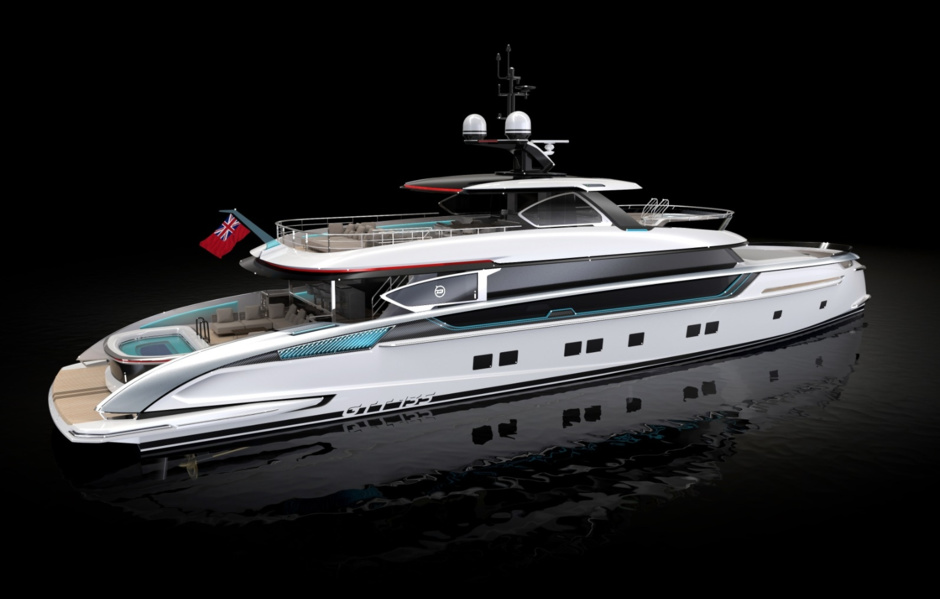 The GTT 135 will be equipped with a Hull Vane horizontal aft wing that reduces yaw and reduces drag by 20 percent.
The yacht will also be equipped with a Voith Linear Jet propulsion system combining the best qualities of a conventional propeller (at low speed) and a water jet (at high speed).
The Voith Linear Jet is a fully submersible propulsion unit with a stationary section (stator) behind the rotating section (rotor). The stator provides damping of rotor-induced eddies, thereby optimizing jet flow and rudder inflow.
Like other Dynamiq yachts, the GTT 135 boasts a large 120 square metre sandbox. The lower deck offers five spacious staterooms for up to 10 passengers, including a full-width master suite.
«We are very pleased to welcome another experienced client to the Dynamiq family who shares our passion for innovation, efficiency and modern design," said Sergey Dobroserdov , Dynamiq brand founder. - This time we decided to engage the professionals from Van Oossanen to undertake a full cycle of naval architecture and engineering to ensure that the yacht is built to the highest Northern European standards».
He added that the interior designer of the project will be announced later, noting that it is «world-renowned luxury car brand». Recall that one of Dynamiq's yachts, the 35m GTT 115, was created in partnership withPorsche Design Bureau.
The experienced European yacht builder, represented by Konstantin Kolpakov of Arcon Yachts, will receive the completed GTT 135 in summer 2020.
Dynamiq shipyard was established in 2011. The main idea of the brand was to simplify the process of ordering superyachts by making price policy and production terms transparent. The shipyard has created a unique on-line configurator on its website which allows a user to build a virtual model of a yacht and to see how prices vary depending on the selected options.
Dynamiq has built two yachts: the award-winning 39-metre GTT 130 Jetsetter and the 35-metreGTT 115 1 of 7, the first Porsche-designed superyacht.