Another unusual project on the eve of the Monaco Yacht Show has been presented to the public. It is true that SinotYacht Design & Architecture from the Netherlands excelled with its 112m electric megayacht.«The yacht has been named Aqua which is no surprise as she is», the result of inspiration found in the surging waves.
Aqua is the embodiment of advanced technology in an ultra-modern vessel.
Work on Aqua was in full swing over the past five months. Aqua was designed in collaboration with naval architects Lateral Naval Architects who were also responsible for the development of the hydrogen-electric propulsion system.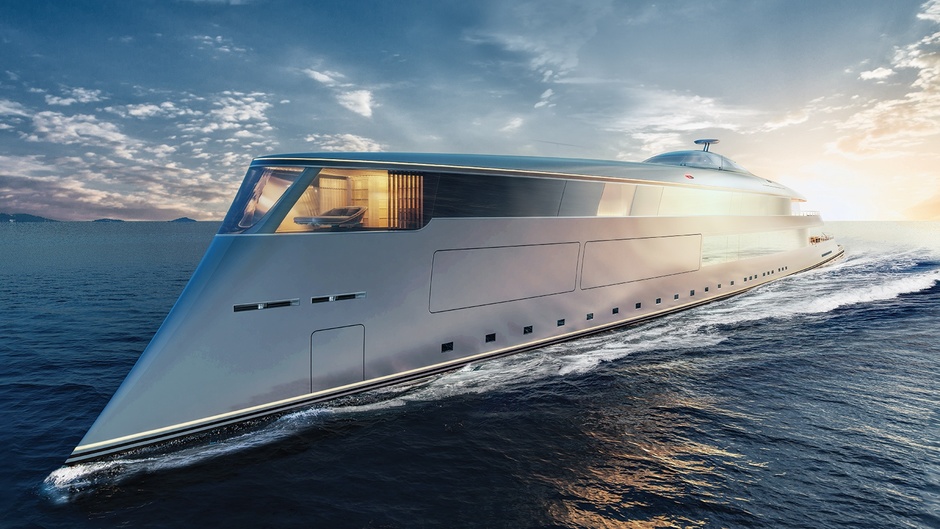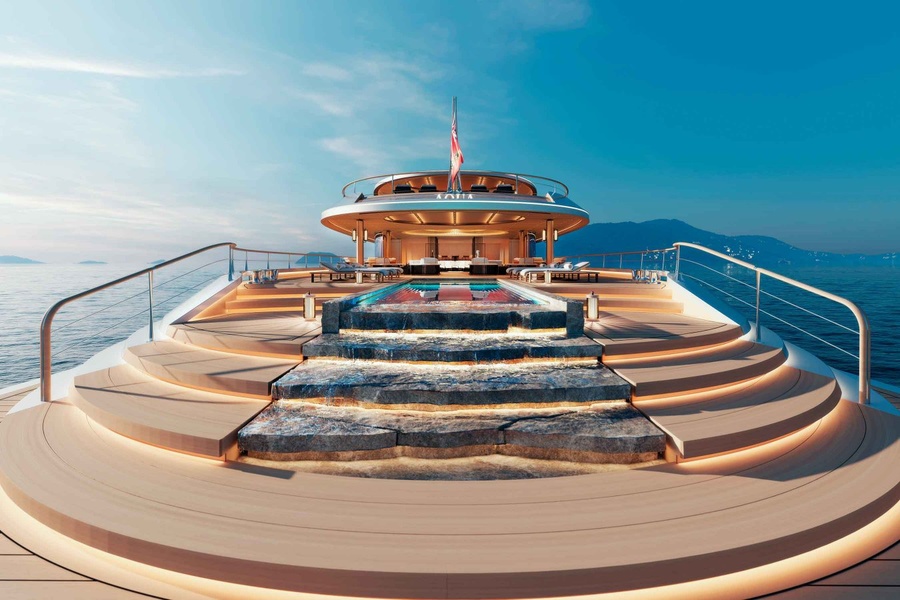 The liquefied hydrogen is stored at -253℃ in two 28-ton vacuum-insulated tanks. The hydrogen is converted into electricity using fuel cells with a polymer proton-conducting membrane that acts as a solid electrolyte. The resulting energy powers the propellers, auxiliary systems and all onboard hotel services, while the remainder is stored in high-capacity batteries. The only by-product of such a propulsion system is water.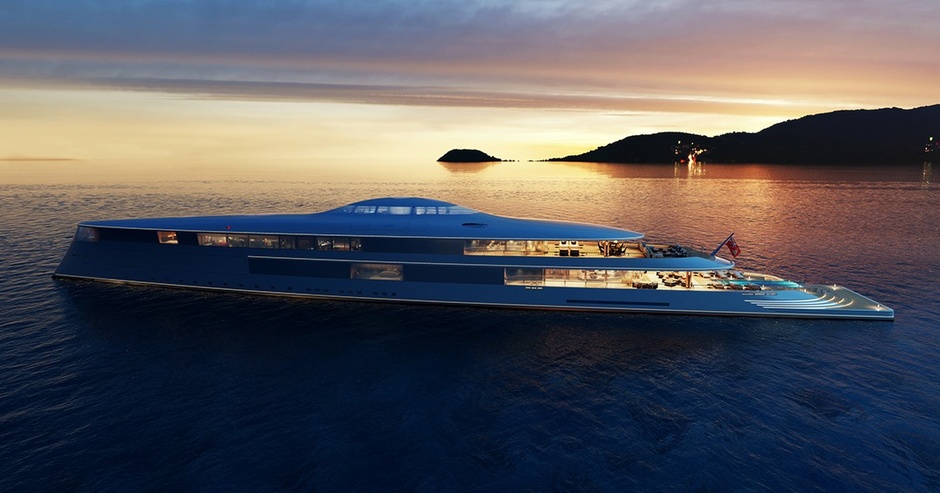 The result is a maximum speed of 17 knots and a cruising speed of 10-12 knots. Cruising range is 3,750 nautical miles.
«Our challenge was to make the idea of using liquefied hydrogen and fuel cells in a real megayacht which is innovative not only technologically, but also in terms of design and aesthetics»," explains Sander Sinot.
With 14 guests and 31 crew on board, the owner has every reason to consider himself the center of the Aqua universe. The 15.4-meter-wide master suite occupies the entire forward half of the upper deck. « The» Owner's Pavilion has floor-to-ceiling windows on both sides, a large circular skylight and is zoned very conventionally - with partitions made of wood «paling». There is a large bathroom, dressing room and even a spa. In general, the entire space is designed in a single key in the best traditions of Japanese minimalism.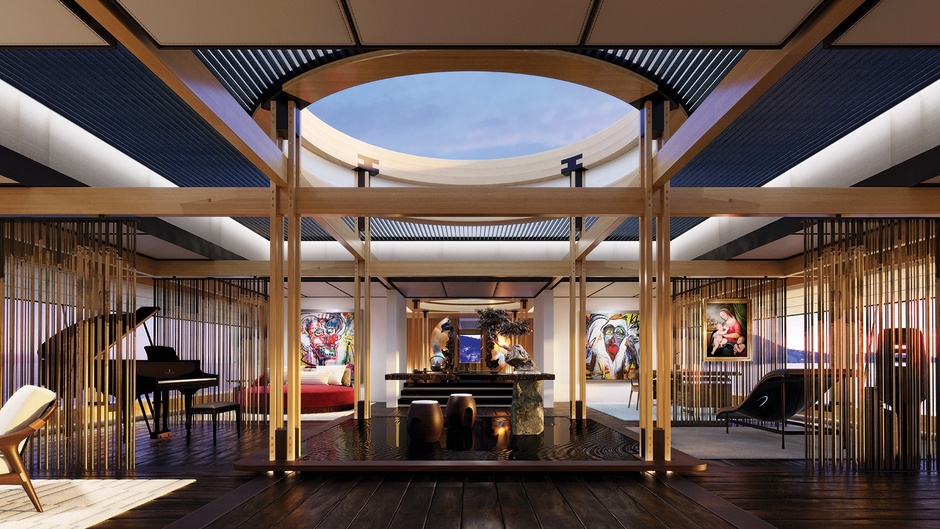 «Diamond» the owner's suite is concealed in the far side of the deck, with a glass cockpit at the very fore end offering a grand view of the ocean.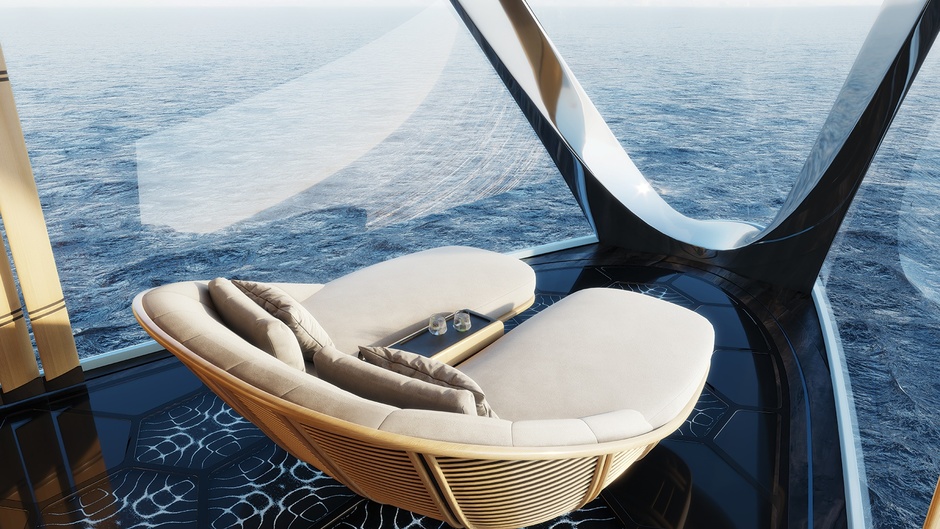 A winding staircase spirals up through all five decks.«The dizzying journey to the bowels of the Aqua is brought to a close by». A true spectacle as defined by Studio Sinot is contained in two spherical hexagonal hydrogen tanks behind a protective screen of impact-resistant glass.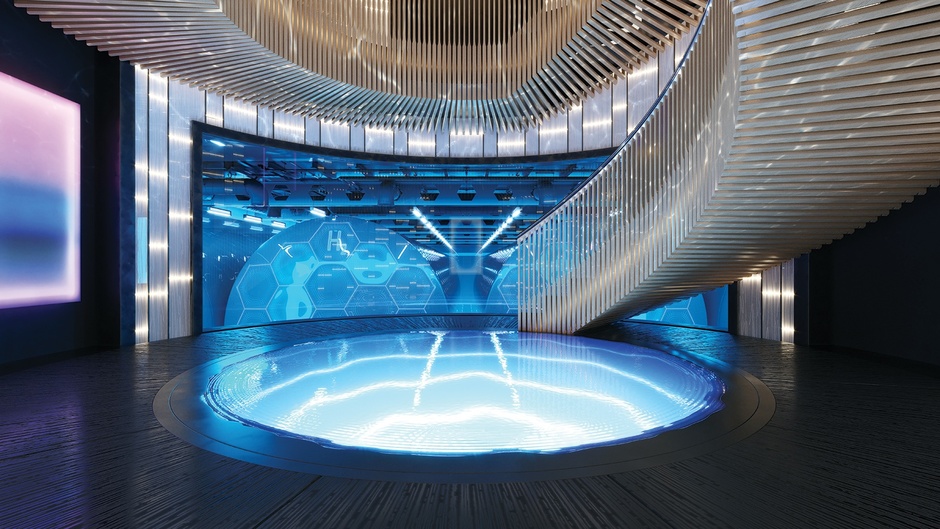 During the Monaco Yacht Show - 2019, the Sinot studio will show a scale model of the unusual megayacht. Prospects of its embodiment in metal are probably too remote.