Dynamiq shipyard, owned by Russian Sergey Dobroserdov, is breaking new ground. Having made the world famous with Gran Turismo Transatlantic superyachts, she has decided to try her hand in the explorer category.
The Dynamiq research range includes three models in 30m, 33m and 40m lengths and in early June the yard unveiled the 33m Global 330 (or simply G330). Following «, the mid-sized Global family member» is now the 30-meter G300, Dynamiq's most compact expedition yacht.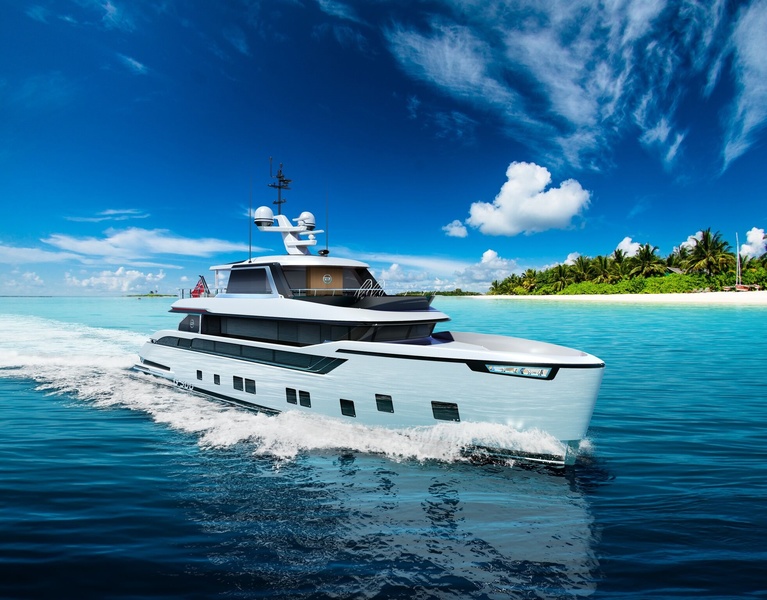 «» is an all-aluminum vessel built according to EPIQ (stands for «Efficiency, Performance, Innovation, Quality,»). The new Dynamiq G300 boasts a high-speed hull designed by Dutch Van Oossanen naval architects and equipped with vector fin stabilizers, proven to be more efficient than conventional flat fins, combined with a horizontal Hull Vane aft wing that reduces yaw and reduces drag.»The result is that like the Gran Turismo series she has a transatlantic range of 3,000 miles at 10 knots and is capable of accelerating to 19 knots.«is powered by a pair of MAN V8 engines, each developing 1,650 horsepower, in the engine compartment.

An advantage of the Dynamiq Explorer is its low draft and relatively short length, which enables these boats to sail anywhere from the Mediterranean to Southeast Asia and the Caribbean.
In fact, the 30 metre Dynamiq G300 has a draft of less than a metre and a half. It will find a berth in nearly every yachting region of the world, so this boat will not have to suffer the inconveniences familiar to owners of large yachts who can only anchor offshore and need to launch a tender every time they wish to access dry land.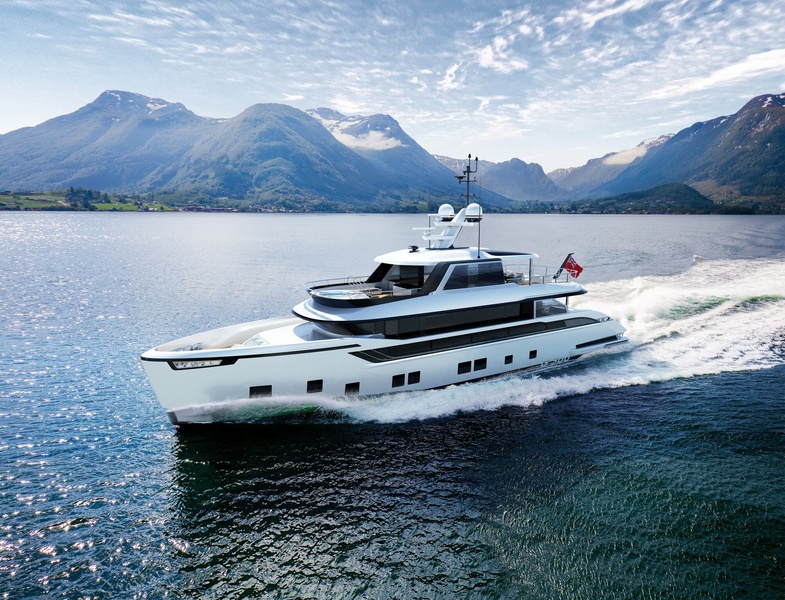 «The compact package» turns out to be very capacious in fact. At a relatively modest 200 gross tons, there is more than enough space on board. Last but not least, there are a lot of opportunities to transform the internal space. For example, the Sundeck saloon can be closed or open, playing the role of open-air cinema, al-freso dining and additional lounge area with a real fireplace.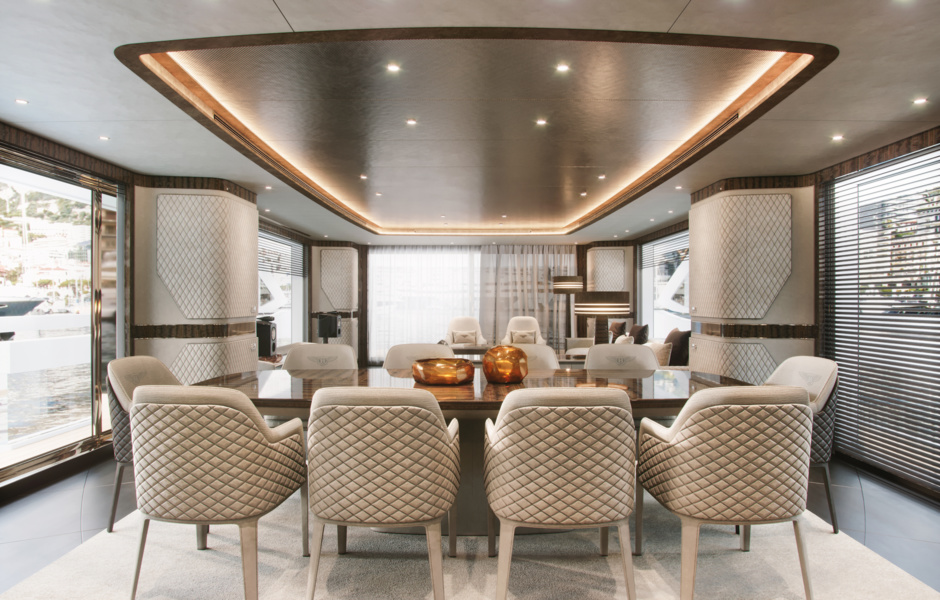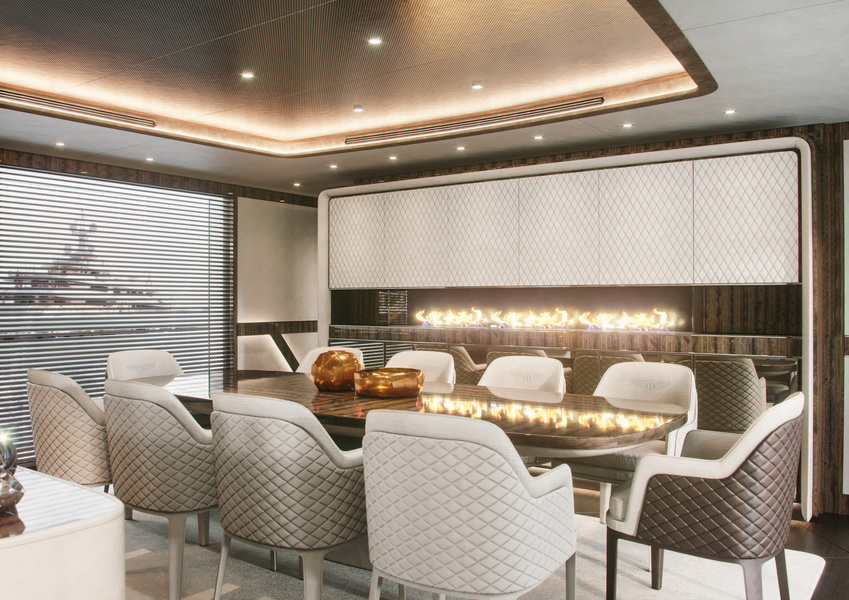 Length and space allow the Dynamiq G300 to offer one of the largest sundecks in its class which extends over 17.7 meters in 94 square meters. METERS.
A crane is provided on the sun deck for launching a CastoldiJet Tender 15 or a Williams Dieseljet445.
Four guest cabins, with VIP accommodation forward and a full-beam master suite amidships, the lower deck also boasts a crew quarters comprising two en suite cabins, a bathroom and even a crew mess for a yacht of this size.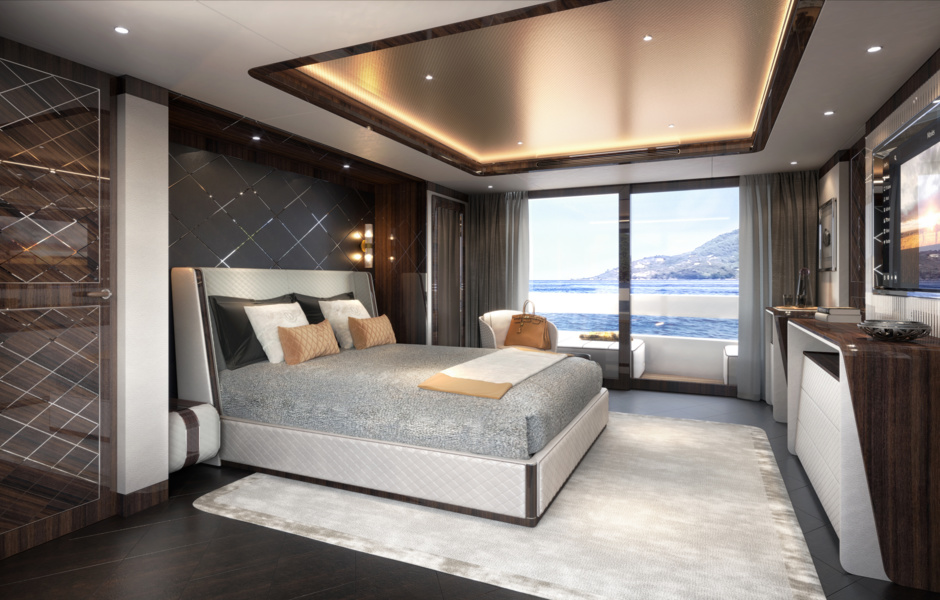 There is no need to escape from the heat in stuffy rooms, as the designers have used special laminated glass which, without sacrificing light transmission, protects the rooms from excessive heat.
Like other models in the Global series, the G300 comes with a large number of optional extras. «A range of» interior packages are available, including one from Bentley Home, designed for car enthusiasts.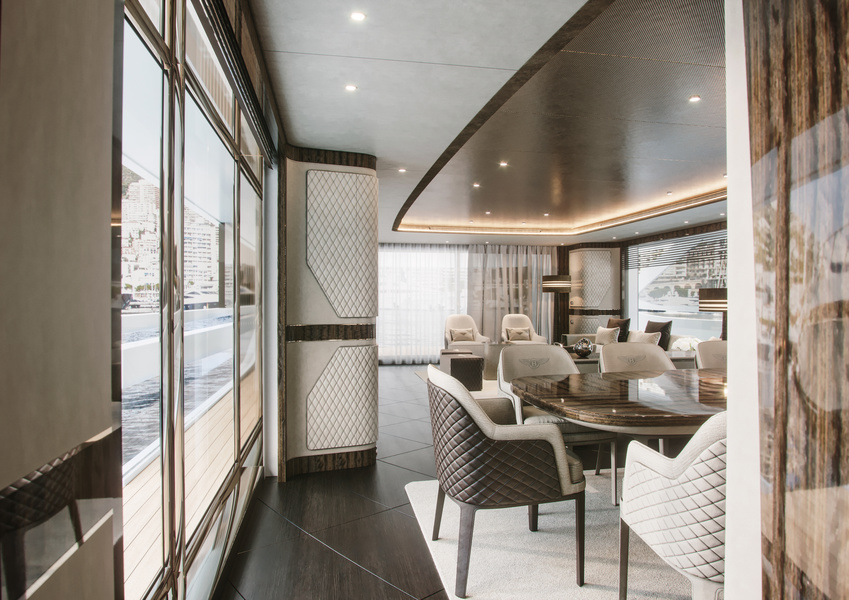 On-board holidaymakers with children will also love the fact that the 5 x 6 metre inflatable pool can be deployed out into the open sea.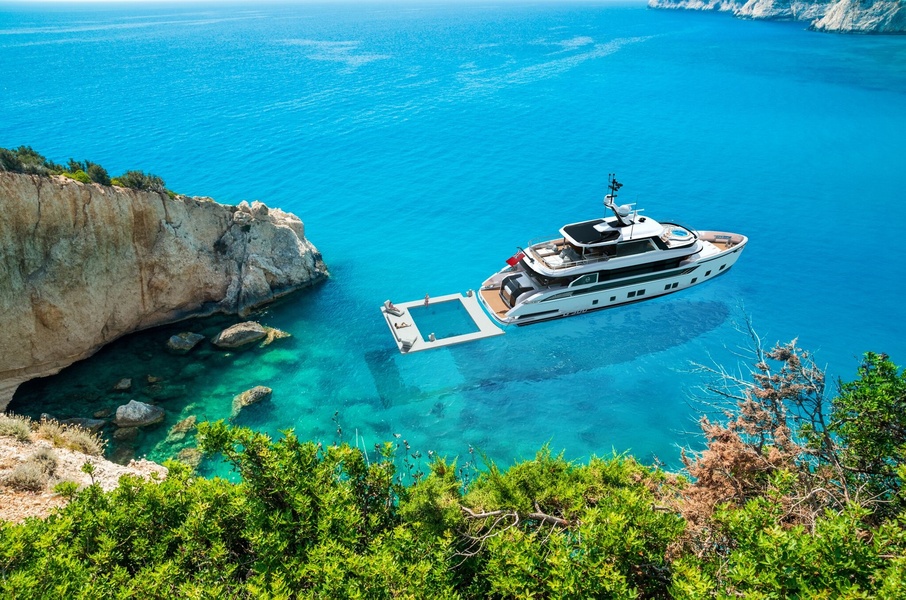 Like other Dynamiq explorers, the G300 will be built in the Italian town of Massa in south-west Tuscany. The base price starts at €9,150,000. The stated delivery time is 22 months.