The owner of the beautiful 50m Race and the late Carlo Riva had something in common: both dreamed that Riva would sooner or later build a megayacht. Sadly, the founder of the eponymous brand passed away before the first design for Riva's superyacht division was fully completed. The launching ceremony was held in Ancona, Italy.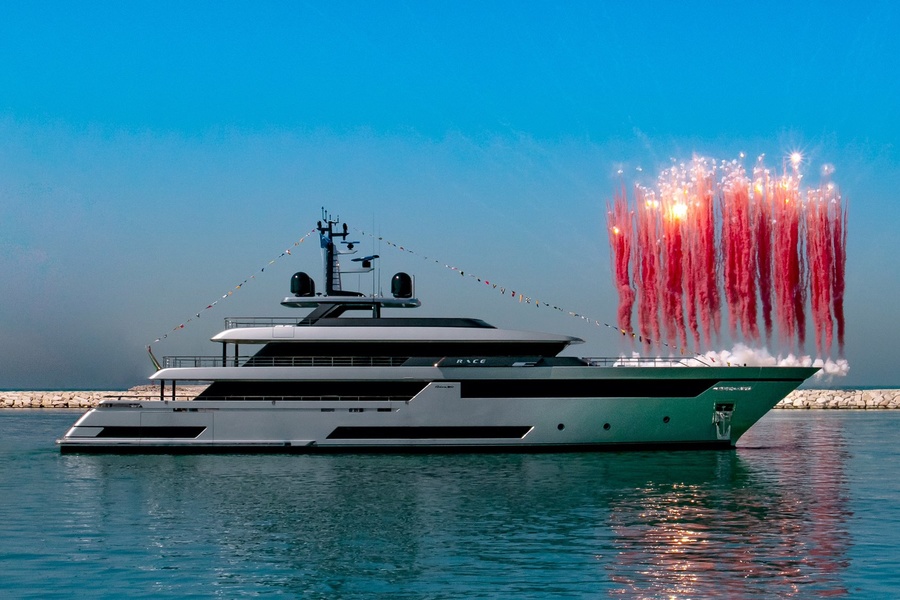 The 50 metre Race, designed by the Ferretti Group together with OFFICINA ITALIANA DESIGN, is currently the largest Riva yacht in its 177 year history.
The previous record holder was the 37.5m Fora (ex Sol).
When Carlo Riva first saw the renderings of the Race he said: «I'd love to ride her».
The mega-yacht designer wasn't able to get on board the first Riva, but he did see the completed yacht in time to spend his 95th birthday in the fitting-out shop.
Although she differs from the rest of the Riva range in size, her design reflects the elements used by Carlo Riva when he worked as a designer on superyacht projects for other yards. In particular she bears a resemblance to the steel Caravelle and Atlantic that shone through in the 1960s and 70s.

On board the Race every square metre of space is dedicated to the owner's desires. Designed for 12 guests, the yacht can accommodate six staterooms. Interestingly, the VIP cabin and the master cabin are located on the main deck, while the other four are on the lower deck.
One of the features of the yacht is a large beach club aft. There is also a garage for the tenders, where the Williams Dieseljet 625 can be stowed. There is a sitting area in the forward section and a hatch leads to a second garage for the rescue boat.
The Race has yet to undergo sea trials. Thanks to a draft of 2.5 meters, the novelty is not afraid of coastal areas and shallow water.
Her top speed is expected to be 15 knots with a 1,360-horsepower MTU engine.
In June, the 50m Riva will be at Venice for the first time at the Venice Boat Show and in September she will be at the Monaco Yacht Show.
Riva 90' Argo recently made her debut in Miami in an equally colourful setting.