Like many other industries, superyacht construction reached its heyday just before the global financial crisis of 2008. Ten years later the market has generally recovered from the turmoil, although in terms of output not even close to the pre-crisis record levels.
Superyacht Times compared the 2007-2009 period to 2015-2017, the most recent three-year period for which comprehensive official data is currently available. These figures show that the number of yachts over 30m produced fell by 375 units (from 713 to 443 hulls). At the same time the market has consolidated with the share of the ten largest players in the total volume of deliveries rising from 32% to 44%.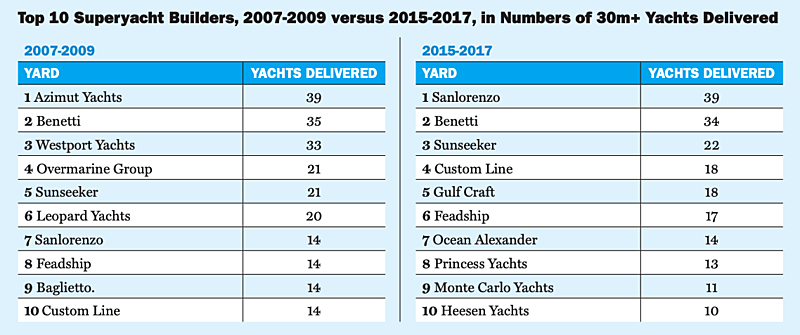 The list of major players has changed significantly. Sanlorenzo has almost tripled its sales, while Benetti and Sunseeker have remained relatively stable in their more modest production volumes.
Meanwhile, Feadship andCustom Line shipments were also up 20-30% (and Feadship's gross boat tonnage was up more than 50%). Gulf Craft moved up to fifth in the rankings, increasing its output by 50%, from 12 yachts in 2007-2009 to 18 in 2015-2017. Taiwan's Ocean Alexander had delivered only one yacht over 30m to an owner by 2009, rising to 14 boards by 2015-2017.
The most impressive achievements come from newcomers to the ranking of major superyacht yards Princess Yachtsand Monte Carlo Yachts. The former debuted on the 30+ market in 2011, the latter was founded in 2008 and did not build boats over 30 metres until 2015.
It is stably held at the end of the top by Heesen. This is despite the shipyard's delivery volumes dropping from 14 boards in 2007-2009 to 10 in 2015-2017.
Overmarine, known for its Mangusta brand, and LeopardYachts have been hit hard by the economic crisis. Leopard Yachts did not deliver new yachts until recently, and Overmarine only handed over eight boards to customers from 2015 to 2017. However, Overmarine has managed to bounce back over the years and now has a much more diverse portfolio of composite, steel and aluminium motor yachts.
Azimut's production of yachts over 30m dropped to just five boards in 2015-2017. But judging by the recent premieres ofseveral new models around 30 meters and above, the company seems set to strengthen its position in this market.
Another Italian shipyard, Baglietto, has also dropped out of the top 10. In 2015-2017, it delivered only five boats over 30 meters in length. At the same time, these projects are bigger than anything the yard has ever built before. Over the past year, the company has signed several more contracts to build custom projects.
Finally Westport has suffered from low demand for yachts built inthe UK. However, the company has recently unveiled several new models and the shipyards are busy with a significant number of projects.